View Things for Kids:
Master Junior Calendar 2023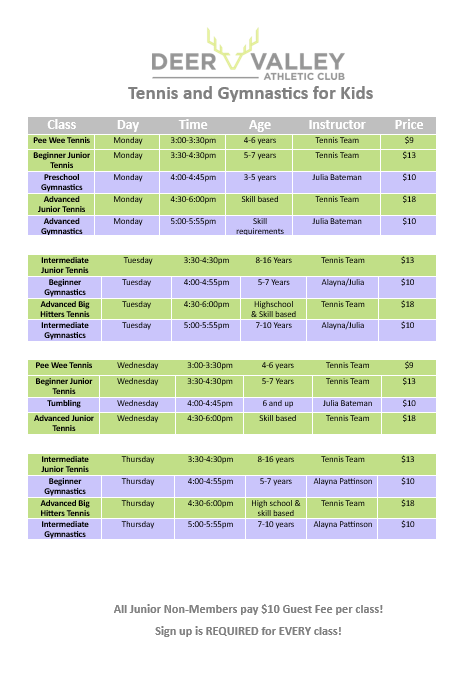 Junior Tennis
At Boone Athletic Club, we believe that tennis is more than just a sport; it's a way to bring families and the community together. We offer a variety of tennis programs for children, from beginners to competitive levels, fostering a love for the game in a supportive and fun environment. Our junior tennis lessons and clinics are perfect for kids looking to learn the game or enhance their skills.
Fall Junior Tennis
Sign up is required! ALL NON-MEMBERS PAY ADDITIONAL $10 GUEST FEE PER SESSION.
Pee Wee Tennis (4-6 Years)
Monday & Wednesday | 3:00 – 3:30 PM ($9)
Players will learn balance, coordination, and will play an array fun tennis games.
Beginner Junior Tennis (5-8 Years)
Monday & Wednesday | 3:30 – 4:30 PM ($13)
Players will develop strokes and fundamentals. Developing a foundation to progress to Intermediate and advanced classes.
Intermediate Junior Tennis
Tuesday & Thursday I 3:30-4:30PM ($13)
Junior players ages 8-16. Players will do drills games and compete at a higher level introducing them into players into advanced group over time.
Advanced Junior Tennis
Monday & Wednesday 4:30-6:00PM ($18)
For the competitive junior player. Playing tournaments and wanting to progress into becoming a strong high school player.
Advanced Big Hitters Tennis
Tuesday & Thursday 4:30-6:00PM ($18)
For the junior player in competitive tournaments. And competitive high school player starting on the team.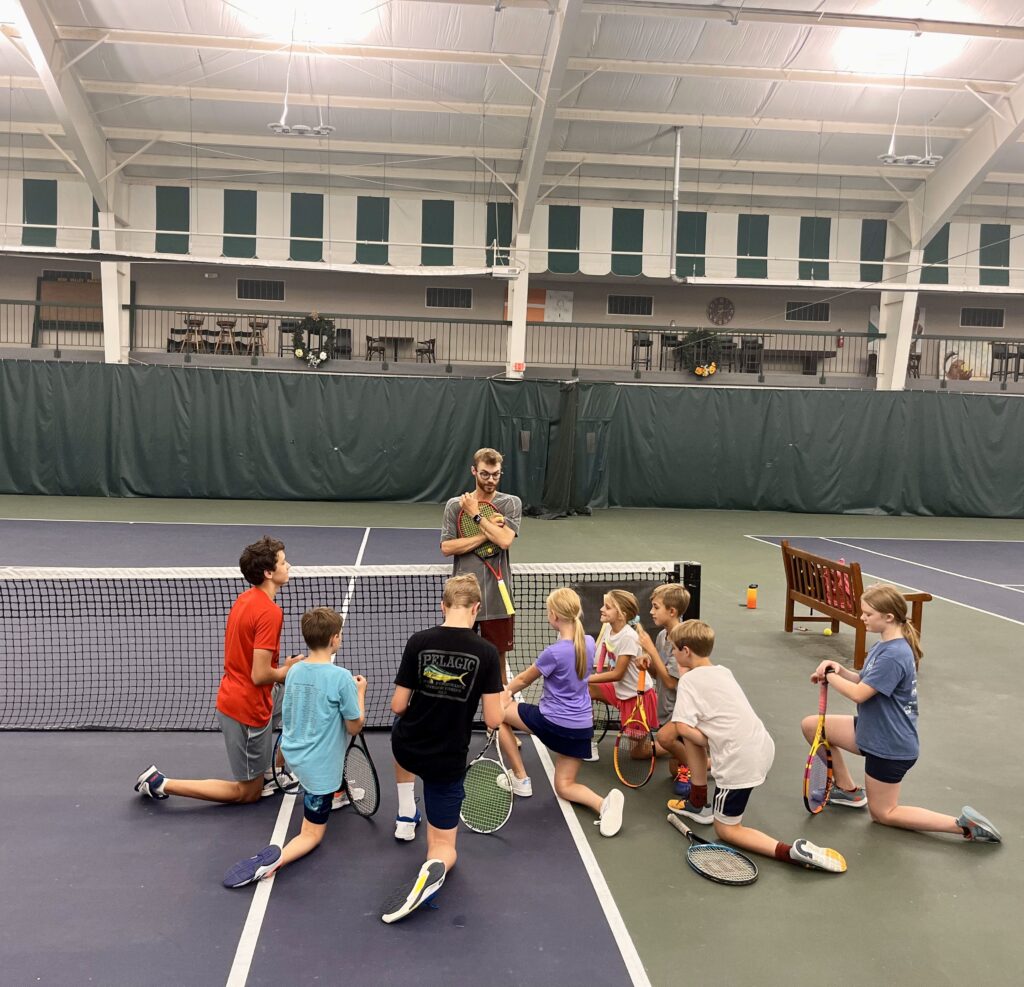 Swimming Lessons for All Ages: Kids to Adults
Indoor Pool
Open Year-Round.
Available for party reservations!
Outdoor Pools
The Outdoor Pool is open from Memorial Day through the end of September.
Hours of Operation: 10:00AM – Dark
Pool Parties
The Indoor Pool is available for Birthday Parties and Private Events.
Private Swim Lessons:
Private / Semi-Private Sessions
•Cost: $30 / 30 Minutes
Nonmember Guest Fee: $10/Session

Swim Parties
•Add Lifeguard: $25 / Hour

Schedule a Private Lesson
Fill out our Swim Inquiry Form to get set up for group lessons, private lessons, and adult swim.
Gymnastics for Kids
SIGN UP REQUIRED
COST PER SESSION: $10
ADDITIONAL GUEST FEE PER SESSION: $10
Preschool (3-5 YRS)
MONDAY | 4:00-4:45 PM
Preschoolers LOVE to play & learn and this is the perfect way for them to do that! This class introduces them to gymnastics and teaches them classroom skills such as waiting in line, sharing and more!
Beginner (5-7 YRS)
TUES/THURS | 4:00-4:55PM
Students will work on the basic skills of gymnastics. They will work on perfecting their rolls, handstands, bridges, and cartwheels on floor; casting and pullovers on bars; walking, mounting anddismounting on beam. They will also work on developing strength and flexibility needed to further develop their skills.
Intermediate
TUES/THURS | 5:00-5:55PM
Students will be introduced to skills such as round offs, kick overs/walkovers on floor; hip circles on bars, jumping and basic tumbling on the beam. They will continue working on
their flexibility, technique, and strength/conditioning needed to progress into more difficult skills needed for the advanced gymnastics class.
Advanced (Skill Requirements)
MONDAY | 5:00-5:55PM
Students will work on more advanced skills on each event, including front and back handsprings, beam tumbling, etc. They will work on improving their strength and flexibility. SKILL REQUIREMENTS: Back walkover , front walkover, chin up
pullover, cartwheel on low beam.
Tumbling (6 and up)
WEDNESDAY 4:00-4:45PM
Great for dancers, cheerleaders, and gymnasts working to improve their floor skills.
Gymnastics Birthday Parties for Kids
One hour of instruction with a coach and one hour in our private party room.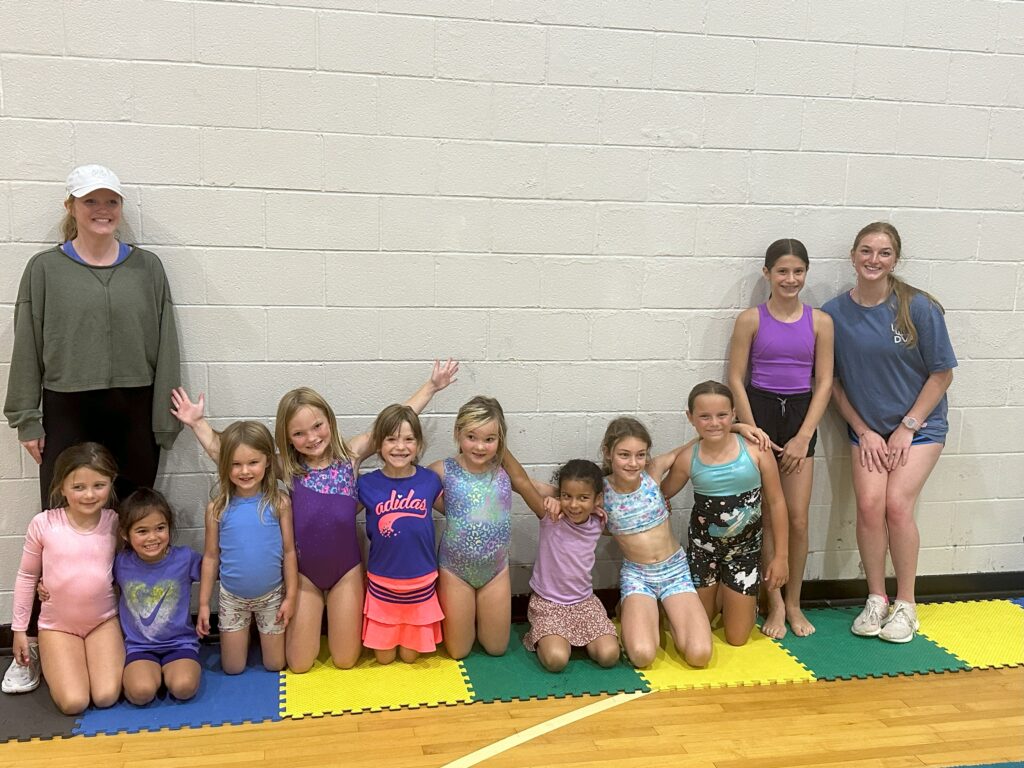 Visit Us Today
Become a part of the Deer Valley Athletic Club family, where we prioritize your child's safety, fitness, and happiness. Our kids' programs are designed to encourage active, healthy lifestyles from a young age, fostering skills and attitudes that they can carry with them into adulthood. Join today or learn more about membership (ask for a tour!).