View the Indoor & Outdoor Tennis Courts:
Non Members and Guests
Please complete the form below before attending classes, clinics, or events. Select "Non-Member" and complete the entire form. Non-members are required to keep a card on file, but can choose to pay per session with an alternative payment if desired.
Welcome to Boone Athletic Club – Your Home of Tennis
Welcome to the heart of tennis in Boone, North Carolina! At Deer Valley, we proudly offer the best indoor and outdoor tennis facilities to provide an unrivaled experience for kids and adults. Our focus is on fostering a family-friendly environment where everyone can enjoy this beautiful game, whether you're a seasoned player or a novice looking to pick up a racket for the first time.
Private Tennis Lessons for All Skill Levels
Whether you're just starting out or looking to refine your game, our tennis lessons cater to all skill levels. Our professional and experienced coaches are dedicated to helping you develop your skills and nurture your love for the game. We offer both group lessons and private instruction, ensuring everyone receives the personalized attention they need.
Adult Tennis Clinics & Events*
Our state-of-the-art tennis facilities provide the perfect backdrop for any tennis enthusiast to play, learn, and grow. With meticulously maintained indoor and outdoor courts, you'll find the perfect setting for your game in any season. Enjoy the scenic beauty of Boone, NC, from our outdoor courts or hone your skills in any weather on our top-notch indoor courts. Our tennis facilities are designed with our players' needs in mind.
Kings and Queens (Saturday Tennis Clinics)
NOVEMBER 11th- App State Women's Tennis Fundraiser ($35)
•Levels 3.0 – 3.5: 9:00AM -10:30AM
•Levels 4.0+: 10:30AM – 12:00PM
Adult Tennis (regular schedule)
•Non-Stop Tennis 2.5 – 3.0: Monday, 6:00PM & Saturday, 9:00AM ($18)
•Non-Stop Tennis 3.0 – 3.5: Tuesday/Thursday, 9:00AM, Tuesday 6:00PM ($18)
•Non-Stop Tennis 4.0+: Wednesday, 8:30AM – 10:00AM ($25)

*A $15 guest fee is applied to the cost of all clinics for Non-Members. Sign up is required!
Junior Tennis
At Deer Valley Athletic Club, we believe that tennis is more than just a sport; it's a way to bring families and the community together. We offer a variety of tennis programs for children, from beginners to competitive levels, fostering a love for the game in a supportive and fun environment. Our junior tennis lessons and clinics are perfect for kids looking to learn the game or enhance their skills.
Fall Junior Tennis
Sign up is required! ALL NON-MEMBERS PAY ADDITIONAL $10 GUEST FEE PER SESSION.
Pee Wee Tennis (4-6 Years)
Monday & Wednesday | 3:00 – 3:30 PM ($9)
Players will learn balance, coordination, and will play an array fun tennis games.
Beginner Junior Tennis (5-8 Years)
Monday & Wednesday | 3:30 – 4:30 PM ($13)
Players will develop strokes and fundamentals. Developing a foundation to progress to Intermediate and advanced classes.
Intermediate Junior Tennis
Tuesday & Thursday I 3:30-4:30PM ($13)
Junior players ages 8-16. Players will do drills games and compete at a higher level introducing them into players into advanced group over time.
Advanced Junior Tennis
Monday & Wednesday 4:30-6:00PM ($18)
For the competitive junior player playing tournaments and wanting to progress into becoming a strong high school player.
Advanced Big Hitters Tennis
Tuesday & Thursday 4:30-6:00PM ($18)
For the junior player in competitive tournaments and competitive high school player starting on the team.
Get Your Tennis Gear at Our Pro Shop
Monday – Saturday: 8:00AM – 3:00PM | Sunday: Closed
Products include: DVAC Apparel, Gently used Athletic Consignment Clothing, Healthy Snacks, Energy Drinks, Tennis Court Shoes, Over Grips, Dampeners, Pickleball Equipment, Tennis Balls & Accessories, and more!
Competitive Community Tennis Tournaments
For those looking for a competitive edge, our club hosts a number of tennis tournaments throughout the year for both adults and kids. These tournaments are a fantastic opportunity to put your skills to the test and enjoy the thrill of competition in a friendly and supportive environment. Whether you're a seasoned competitor or participating in your first tournament, you'll find a welcoming community here at Boone Athletic Club.
2023 Tournament Sponsors: THANK YOU SPONSORS!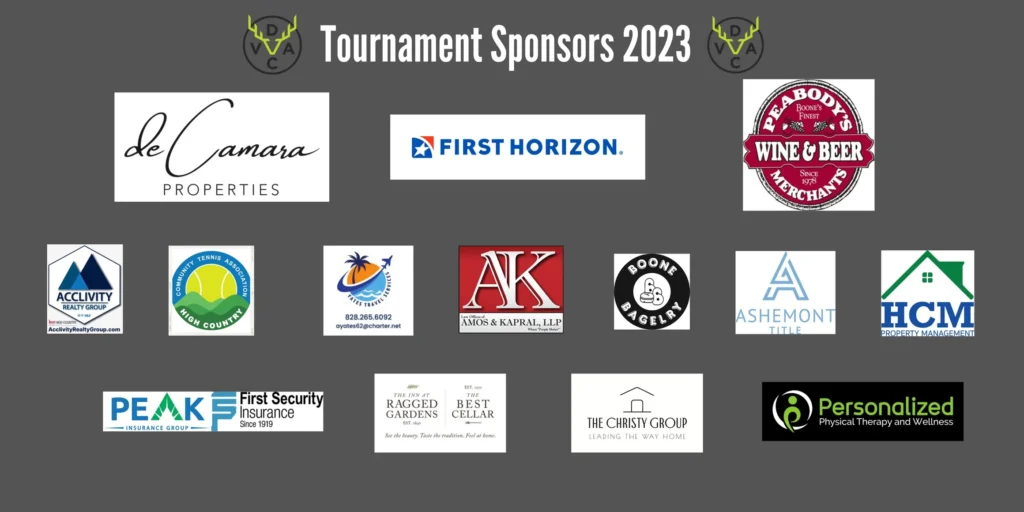 Tennis Instructors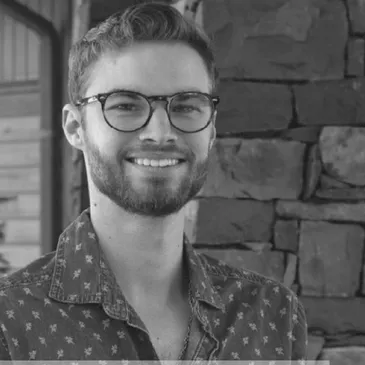 Adam Smith
Director
Adams comes from a small town in the foothills of NC named Baton. His journey in tennis began in 2008 at 15 years of age. Quickly growing in the sport, he chose to play at small school in South Carolina named Spartanburg Methodist college in the year 2011. Playing on scholarship he played singles lines 2 through 5, and doubles line 1. In 2013 he received and accepted an offer to become the Director of Tennis at Cedar Rock Country Club. Running all aspects of the tennis program upon arrival and throughout his tenure their. In 2015 while running the program at Cedar Rock Country Club he also became the Head Coach for 6 successful winning tennis seasons at Hibriten High School. Both Girls and Boys teams respectively. Coaching multiple division 2 and 3 players along the way. In 2019 Adam became the Director of Tennis here at Deer Valley Athletic Club. Running a mixture of all programs here over the course of his tenure. You can catch Adam around the club with a smile on his face and lots of energy. Adam is USPTA certified, safe play certified, and a certified tournament director.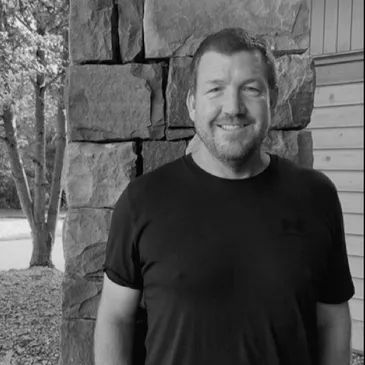 John Thompson
Tournament Director
With a longstanding career in the industry, starting in 1989 alongside Bob Lake at Yonahlossee while attending ASU. After leaving collegiate tennis, he moved to Myrtle Beach to direct tennis at The Dunes Club, and was the South Carolina Pro of the Year in 1997. His career includes coaching at the collegiate level as well as coaching on the ATP tour through 2006 with Robbie Ginepri.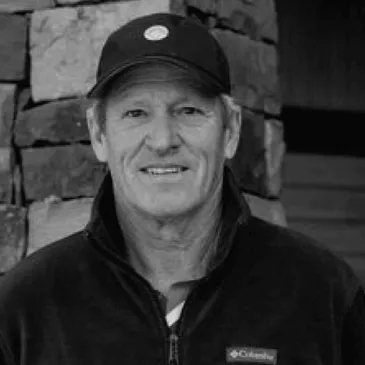 Bob Lake
Pro
Bob joined Deer Valley after over 40 years of teaching tennis at both the college and club level. He spent over 20 years at Yonahlossee Resort as well as coaching at Appalachian State University. During that tenure he maintained a record of 208 wins. His personal record after moving to NC in 1987, playing both singles and doubles resulted in 6 state titles, including 2 NC State Championships and 3 southern titles, two of which representing NC in the Southern Cup. He was ranked highly as number two in NC and second in the South in the 30 and over. He enjoys teaching all ages and levels in clinics and private lessons. He now splits his year teaching at Deer Valley with summers in Cape Cod.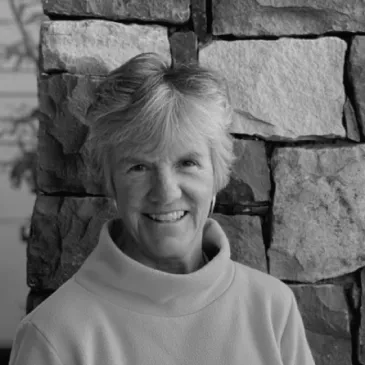 Carol Almond
Pro
Carol is excited to offer her skills in our Junior tennis program as she has completed her certification in "Munchkin Tennis" for coaching individuals in the 5-7 age group. She is distinguished for having taught and directed a homeschool physical education program as well as teaching elementary physical education and motor development to teacher candidates. Carol also played tennis at the collegiate level for Appalachian State University, as well as coaching Clinch Valley College and The College of Wooster. She also dedicated her time to Watauga High School tennis as coach for 4 years. Currently, she plays USTA tennis and serves as secretary for the High Country Community Tennis Association Board.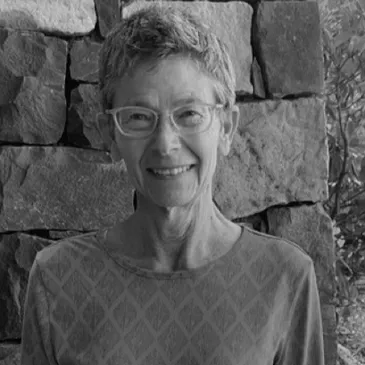 Nanette Huff
Pro
Nanette Huff has been involved in tennis, health and fitness since age 6 when she took her first tennis lesson. She began competing at age 8 and was ranked Number 1 in juniors from age 10-18. She played collegiate tennis where she achieved All American 3 years in a row. In 2016, Nanette's team won the USTA 55 and over National Tennis Championship in Surprise Arizona. Her qualifications (USPTA certification in tennis and pickleball) and experience include providing tennis/pickleball instruction and personal training. Whether it's tennis instruction, doubles strategy, pickleball instruction or personal training, Nanette's techniques are designed to help her clients achieve their desired goals.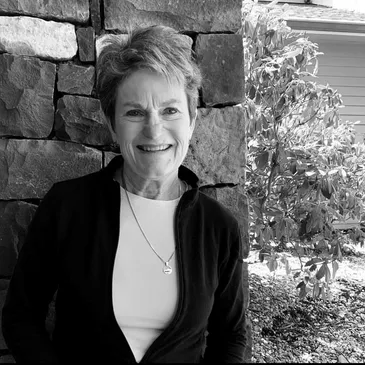 Lindsey Linker
Pro
Lindsey brings years of tennis experience and a level of enthusiasm for the sport that is unmatched. Lindsey was inducted into the North Carolina Tennis Association Hall of Fame in 2014 after winning Conference Coach of the Year 52 times at Chapel Hill High. She was a 4 Year Letter winnter at UNC and ranked as high as #5 in USTA National division. Lindsey offers private lessons and assists with our Junior Program at Deer Valley.
Join Our Tennis Community Today!
Experience the best of tennis in Boone, North Carolina, at Boone Athletic Club. Our indoor and outdoor tennis courts, exceptional coaching staff, and family-friendly atmosphere create the perfect environment for learning, playing, and enjoying the game. Come join our thriving tennis community, where friendships are forged, skills are honed, and the love for tennis is shared. Join today or learn more about membership (ask for a tour!).